Thank You to Our Shad Bake Sponsors:
Captain Level Sponsors
Fisherman Level Sponsors
Shad Level Sponsors
AJ Shea Construction
The JECM Foundation
Benin Management
BrandTech Scientific, Inc.
Clark Group
Jeffrey N. Mehler, CFP® LLC
Middle Cove Marina
Winthrop Construction
Roe Level Sponsors
Peck & Ficarra, Attorneys at Law
CFMC
Essex Marine Group, LLC
Middlesex Hosp.
Robinson, Wright & Weymer Funeral Home
Safety Zone
Gerald Tarre, Northwestern Mutual Financial Network
Wells Fargo Advisors
Local: Essex Rotary Scholarship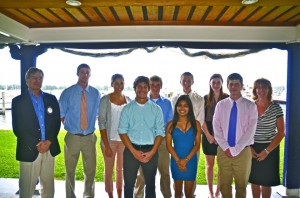 Each year, the Rotary club of Essex awards two local scholars with a $10,000 scholarship for college. One of these awards is called the Donald M. Buebendorf, MD Scholarship, named after a former Rotarian. The second scholarship is funded by and is administered by the Rotary Club of Essex.
Each of the scholarships is paid out over four years. Scholarship recipients are required to visit the Rotary Club of Essex each year during the awards to provide the club with un update regarding their studies. Scholarship recipients are encouraged to become involved in providing service to others.
Applications should be submitted by 5/1/15 and should be turned in to the guidance counsellor at Valley Regional High School.
Download our application here: Essex Rotary Donald M. Buebendorf, MD Scholarship Application