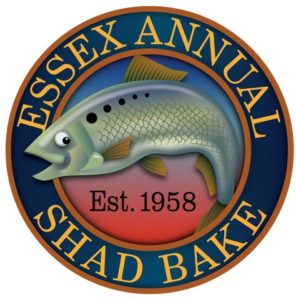 The Shad Bake
Saturday, June 6, 2020

The Rotary Club of Essex and The Connecticut River Museum are once again partnering to bring you a classic Spring ritual of the Connecticut Shoreline- the Shad Bake, Saturday, June 6, 2020.
2020 will mark the 62nd year the Rotary Club of Essex has maintained this important culinary tradition. Once the basis of a sizable fishery on the River, American Shad are a flavorful fish known both for their taste and for the difficulty in preparing them for the table (due to thousands of tiny bones).  Expertly deboned and nailed up on oak planks around a smoldering bonfire, the shad take on a smokey flavor and is accompanied by many sides .  Not a fan of shad? Hot dogs and barbecue chicken are served as well.  A cash bar serves several different varieties of beer and wine, as well as nonalcoholic beverages.  In addition to great food and drinks, enjoy historical displays on the Connecticut River shad fishery and live music.  Community members are encouraged to come down to the River, eat some shad, and learn about this important local culinary custom!