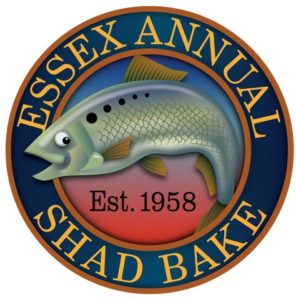 SATURDAY JUNE 4, 2016 @ 3:00PM

The Rotary Club of Essex and The Connecticut River Museum partner to bring you a classic Spring ritual of the Connecticut Shoreline- the Shad Bake.  Now in its 58th year, the Rotary Club of Essex has maintained this important culinary tradition for decades. Once the basis of a sizable fishery on the River, American Shad are a flavorful fish known both for their taste and for the difficulty in preparing them for the table (due to thousands of tiny bones).  Expertly deboned and nailed up on oak planks around a smoldering bonfire, the shad take on a smokey flavor and will be accompanied by many sides as well as pie from Lyman Orchards.  Not a fan of shad? Hot dogs and barbecue chicken will be available as well.  A cash bar will offer several different varieties of beer and wine, as well as nonalcoholic beverages.  In addition to great food and drinks, several talks and displays about the history of the Connecticut River shad fishery will be offered throughout the afternoon, and live music will be provided by the Corinthian Jazz Band.  The Connecticut DEEP will be onsite as well to commemorate the 150th anniversary of the founding of the Connecticut Bureau of Natural Resources.  A shuttle service will run from Essex Town Hall and the Pratt House (both on West Avenue) to the Museum to ease parking congestion.  Come down to the River, eat some shad, learn about this important local culinary custom and have a blast!
Tickets are available online at the Connecticut River Museum shop, and can be bought in person at the Museum and at Bob's Centerbrook Package Store.
The Rotary Club of Essex would like to thank our sponsors, without whom this event would not be possible:
Captain Level Sponsors

---
Fisherman Level Sponsors
The JECM Foundation
---
Shad Level Sponsors
BrandTech Scientific, Inc.
Brewer's Yacht Yards
Clark Group
Emme & Jonathan Deland
Essex Boat Works
Essex Wellness Center
Ivory Wealth Management
The Kitchings Family
Middle Cove Marina
Saybrook Country Barn
Winthrop Construction
---
Roe Level Sponsors
Fitness on the Water
OneLook Signs
Peck & Ficarra Attorneys
Robinson, Wright & Weymer Funeral Homes
Safety Zone
The Valley Railroad
Wells Fargo
---
In- Kind Support
Ashleigh's Garden- Clark Group- Colonial Market- Connecticut Rental Center- Essex Lions Club- Essex Meadows- Haddam Shad Museum- Joseph Shea- Long Cat Graphics