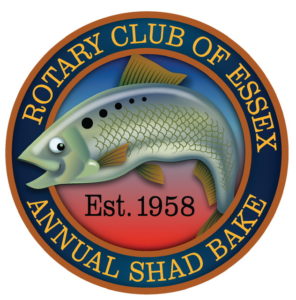 The June 3, 2023 Rotary Club of Essex Shad Bake was a rousing success! Thanks to the many hard-working volunteers, sponsors, donors, and to the people who showed up to enjoy the return of this wonderful New England tradition.
The Rotary Club of Essex would like to thank our 2023 sponsors, without whom this event would not be possible!
$5000 Captain Level Sponsors
$2500 Fisherman Level Sponsors


Anonymous
$1000 Shad Level Sponsors
Diana Harbison MD, P.C.
Jeanne and Tim Tobin
Emme and Jonathan Deland
Marilyn Fall
Stephen and Alison Brinkmann


Anonymous
$500 Roe Level Sponsors


Gerri Lewis
In-kind Sponsors
Joseph Shea
Paddy Whack
BRANDTECH®
Thank You, 2023 Shad Bake Volunteers!
Ava Boyles
Ava Frost
Callie Breitenbach
Chip Frost
Corina Pagliuco
Donna & Kevin Parker
Eileen Russell
Erica Martel
Hayden Amsdenfish
Haylee Kulig
Isabella Capezzone
Jake Lindy
Jeanne Tobin
Joe DiRenzo
Joyce Flynn
Karen DiRenzo
Karen Walsh
Kyle Hinding
Linda Herman
Linda Levene
Lon Seidman
Madison Vernotzy
Matt Carr
Mike Augusta
Pat Callahan
Peter Bunting
Robert Ward
Stephen & Allison Brinkmann
Steve Hinding
Tom Kulig
Zoe Cone
Visit us on Instagram. 
Follow us on facebook.
Rotary is dedicated to providing for the needs of our local community as well as national and international projects.
During this Covid-19 crisis, many residents have had great difficulties. We have made donations to the Essex Social Services Fund and Shoreline Soup Kitchen & Pantry to help with those in need of assistance and food.
We have also recently supported FISH, the Ivoryton Alliance and Essex Memorial Hall. Internationally, we have supported the Sister Cities Essex, Haiti installation of solar panels at the Deschapelles Community Library.
For more information, please open the "Our Club" tab.
Rotary Club of Essex provides support to our local community including providing scholarships for high school students who are residents of Essex.

We also support Rotary International projects worldwide. For more information click on any image below.
Click on "Visit the Rotary International Site" to learn more about Rotary projects worldwide.