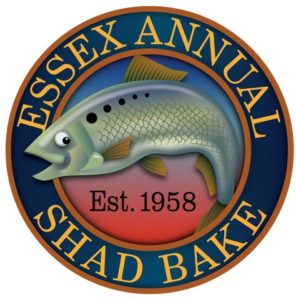 The Shad Bake 2019

The Rotary Club of Essex and The Connecticut River Museum partnered to bring you a classic Spring ritual of the Connecticut Shoreline- the Shad Bake, June 1, 2019.
2019 marked the 61st year the Rotary Club of Essex has maintained this important culinary tradition. Once the basis of a sizable fishery on the River, American Shad are a flavorful fish known both for their taste and for the difficulty in preparing them for the table (due to thousands of tiny bones).  Expertly deboned and nailed up on oak planks around a smoldering bonfire, the shad take on a smokey flavor and was accompanied by many sides as well as pie from Lyman Orchards.  Not a fan of shad? Hot dogs and barbecue chicken were served as well.  A cash bar served several different varieties of beer and wine, as well as nonalcoholic beverages.  In addition to great food and drinks, several talks and displays about the history of the Connecticut River shad fishery were offered throughout the afternoon, and live music was be provided.  Community members came down to the River, ate some shad, learned about this important local culinary custom and had a blast!
 
The JECM Foundation (See us on facebook)
---
$2500 Fisherman Level Sponsors
Clark Group/Middle Cove Marina
Essex Savings Bank/ Essex Financial Services
Tower Laboratories Ltd.
---
$500 Roe Level Sponsors
Gowrie Group
Susan A. Malan
MHS-Essex
Robinson, Wright, and Weymer Funeral Home
Saybrook Home
Valley Railroad
Alarm Systems, Inc.
Brad Hull Landscaping
Connecticut River Dock and Dredge
Grayson Metal
Libby Property Management
Martinez Painting Company
Moyer's Landscaping Services
Muir Electrical Inc.
New Image Ceramic Tile, LLC
Quality Propane
Silverio Mechanical LLC
Slate & Copper Services
Stevens Excavating
Sullivan Paving Company
Talpey Construction LLC
Christine and Sonny Whelen
Wilcox Tree Experts
---
In- Kind Support
Adams Hometown Market, Ashleigh's Garden, Butter Jones, Clark Group, Essex Historical Society, Essex Meadows, Essex Yacht Club, A. Joseph Shea, River Valley Oil Service